Nearly every airline passenger has a "just barely made it" story. You probably do, too. Maybe you were dashing through the concourse with your kids as you heard the last call for boarding. Or maybe you were on a stressful work trip and every minor inconvenience tested your patience … like arriving to your gate with your phone's battery at 2% and finding not one unoccupied seat with an electric outlet.
Yes, even when you're jetting off for a sun-and-sand getaway, travel can get stressful. And factors such as peak holiday travel or airport construction add a little extra pressure.
We've been there, too. In fact, making it even easier for you to get around the airport and relax before you board your plane are a few key goals for the building projects currently unfolding at the airport. As we unveil new designs over the next few years, you'll see wellness and convenience incorporated in big and small details, from tapping the latest innovations in healthy architecture to adding more comfy seats with charging stations. (You can get a sneak peek of what's in the works here.)
Thankfully, we've also got a few immediate tips for your next flight. From an airline expert to fitness coaches, we've invited four pro travelers to share hacks that can help make hectic travel days less stressful — and maybe even rejuvenating. Here's a PDX tips-and-tricks checklist for more cheerful trips.

Portlanders' Tips for Traveling Well
Tip 1. Give Yourself Extra Time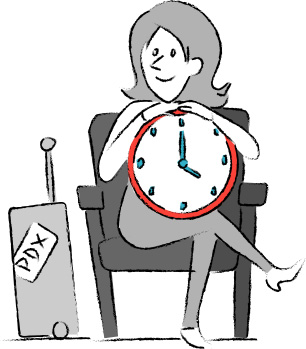 Ever feel like your racing against the clock at the airport? You're not alone. "We see many travelers miss their flight because they are stuck at TSA or they barely make their flight because they are running to the gates," says Abe Kauhane, a PDX-based operations supervisor with United Airlines. And travelers who have a tendency to cut it too close for comfort make their whole experience, well, uncomfortable.
"The biggest tip is to always arrive at the airport in a timely fashion," Kauhane says. For advice on precisely how early to arrive, he advises you to check with your airline, though two hours before a domestic and three hours before an international flight are good rules of thumb. Add more of a time cushion when traveling around the holidays or the busiest time of the day. As construction takes place at the airport, make a habit of visiting FlyPDX.com for the latest alerts and find more PDX-specific travel tips here.
Tip 2. Get Up and Stretch
The vast majority of travelers sit still in airports while waiting to board, then remain seated on the plane for potentially hours. Movement is a simple way to reduce anxiety and keep yourself feeling fresh, suggests fitness coach Ashley Kondziela, the founder of Prism Fit, an inclusive fitness center in Portland.
"Long flights make for a lot of time sitting, making us stiff and uncomfortable," Ashley says. "Get up every 30 minutes or so and stretch to relieve tense and stiff muscles." Your movement routine doesn't have to be sweaty — try easy in-flight stretches as well as a few pre- and post-flight exercises.
Tip 3. Hydrate — and Bring a Bottle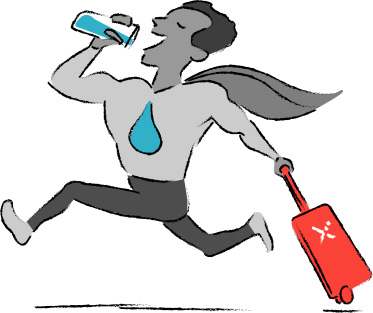 "Most people don't realize that hydration is a huge factor in feeling good and staying healthy while traveling," says Kauhane, who makes sure he drinks extra H2O before flying, starting the night before takeoff.
One way to ensure you're adequately hydrating is to carry your own bottle, says Celeste Noche, a professional photographer who frequently jets out of PDX on assignment. "It seems simple, but one tiny plastic cup of water on a flight isn't enough," she says, "and most airports have water filling stations once you get past security." PDX has more than a dozen refill stations, so pack a bottle in your carry on and keep sipping.
Tip 4. Go Analog With Books and Journals
Entertainment options on airplanes are virtually endless. Plenty of travelers look forward to streaming recently released movies and TV series. But to feel more mindful and peaceful, try using your in-air hours for a "digital detox." "Lately, I've really relished disconnecting while in the air," says Noche, who reccommends turning to paper and pen for a break from screens. "I look at travel as a good excuse to unplug and spend time with books and my journal."
Tip 5. Pack a "Happy Place" Kit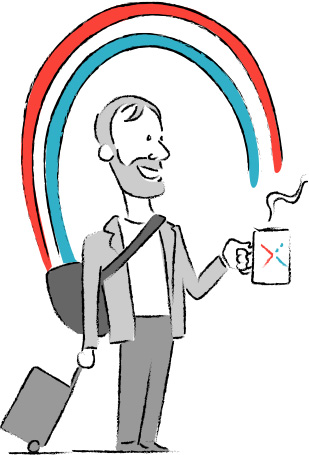 If your anxiety peaks with the thought of flying, or you've had an unusually busy travel schedule of late, one simple hack is to pack your own "happy place" kit in your carry-on, filled with travel-size personal care and culinary favorites.
Need some "happy place" kit-spiration? Photographer Noche fills hers with her favorite tea ("You can get free hot water in airports and on planes.") as well as sheet masks and scented, heated eye masks ("These two Asian beauty items are lifesavers for long flights, or whenever I'm feeling especially tired. The sheet masks are great for hydrating and refreshing, and the eye masks are luxurious and calming.") And, of course, don't forget snacks. "Never underestimate the power of snacks," Noche adds.
Tip 6. Slip Into Compression Socks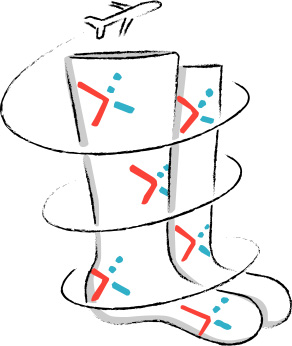 To avoid cramped and swollen legs, take a cue from marathon runners and slip into a pair of compression socks before you board. "Wearing compression socks works wonders, especially on long trips," says health coach Mark Mohammadpour, the owner of Chasing the Sun, who wears these simple stockings when he flies for work. "Compression socks help keep blood circulating throughout the body, which helps reduce blood clots and leg swelling."
Tip 7. Pop Melatonin for Better Zzz's
Struggle to snooze when you fly? "If you're trying to sleep on the plane, bring some melatonin," Prism Fit coach Kondziela says. In addition to avoiding caffeine and wearing comfortable attire, proper doses of over-the-counter melatonin can help you feel more rested, especially on cross-country and international routes. "Taking melatonin on your flight or the night of your arrival can help minimize jet lag, without the grogginess that comes with regular sleep aids."
Tip 8. Smile All the Way
Feeling a little frazzled? Say cheese. Simply putting a smile on your face can make you feel better, research suggests. Health coach Mohammadpour suggests we direct this gratitude to the folks working hard to get us to our destinations. "Smile and thank the airport employees, TSA, gate agents and other staff — they work smart and hard to get us where we want to go," he says. "Appreciating the work of airline employees shows we are giving grace and is great for reducing stress."